Animals
Whether you like identifying animals, studying their behavior, or simply enjoy watching wildlife at its best, you've come to the right place; USeeWildlife.com, your window to nature™ What can you see at USeeWildlife.com?
Well, as you can see we've started a list of animals seen on USeeWildlife cameras but we need your help expanding the list. We'll soon have a spot where you can add to the list. You'll see whitetail deer and wild turkey roaming the woods. You'll see Trumpeter swans gliding across the water next to Mallard ducks, as well as many other species of waterfowl.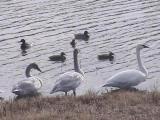 You'll see Bald Eagles and Hawks as they soar the skies.