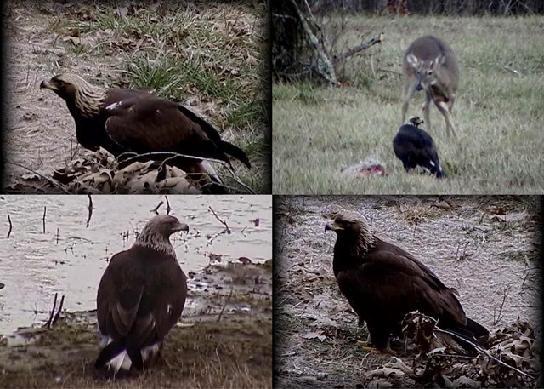 Golden Eagles at USeeWildlife
Golden Eagle sightings are somewhat rare for this area in general, but not for USeeWildlife. We have experienced some amazing up-close and personal sightings. The picture above is of one we've named Double-Spot because of the two white spots on its shoulders.
Description
The Golden Eagle (Aquila chrysaetos) is one of the best known birds of prey in the Northern Hemisphere. Like all eagles, it belongs to the family Accipitridae. Once widespread across the Holarctic, it has disappeared from many of the more heavily populated areas.
Adult Golden Eagles range considerably in size, though some are among the largest eagles of the genus Aquila. Most subspecies of Golden Eagle vary in the range from 65 to 100 cm (26–40 in), wingspan can range from 150 to 240 cm (60–96 in), and weight is from 2.5 to 7 kg (5.5–15.5 lb). However, wild specimens of the largest subspecies in North America have been observed to be somewhat larger than that description, as the largest recorded weighed 9kg (20 lbs) and had a body length of 102 cm (40.1 in).[1] As with many Accipitriformes, females are considerably larger than males, in the case of the Golden Eagle they weigh one-quarter to one-third more than male birds.
The plumage colours range from black-brown to dark brown, with a striking golden-buff crown and nape, which give the bird its name. The upper wings also have an irregular lighter area. Immature birds resemble adults, but have a duller more mottled appearance. Also they have a white-banded tail and a white patch at the carpal joint, that gradually disappear with every moult until full adult plumage is reached in the fifth year. Contour feathers may be moulted in a short time span.
Feeding
Golden eagle prey includes marmots, hares and mice, and sometimes birds, martens, foxes, small turtles, young deer, and livestock including lambs and young goats. During winter months when prey is scarce, Golden Eagles scavenge on carrion to supplement their diet. Sometimes when no carrion is available golden eagles will hunt down owls, hawks, falcons, and large ungulates. Golden eagles are avian apex predators, meaning a healthy adult is not preyed upon. There are records of golden eagles killing large raptors such as Eurasian Eagle Owls, Gyrfalcons, Goshawks and Buteo hawks. Despite being often smaller in size, they are capable of displacing large vultures, of both unrelated families, from carrion. However, the Bald Eagle and White-tailed Eagle can displace Golden Eagles in competition over food and vice versa. Golden Eagles have very good eyesight and can spot prey from a long distance. The Golden Eagle has a resolving power 8x more powerful than a human. The talons are used for killing and carrying the prey, the beak is used only for eating. They often have a division of labour while hunting, one bird driving the prey towards its waiting partner. On the other hand, the size difference between males and females allows more unpaired birds to live off the land, which is helpful to maintain a sufficiently large population for this large and slowly-maturing bird.
Reproduction
Golden Eagles usually mate for life. They build several eyries (nests) within their territory and use them alternately for several years. These nests consist of heavy tree branches, upholstered with grass when in use. Old eyries may be 2 metres (6.6 ft) in diameter and 1 metre (3.3 ft) in height, as the eagles repair their nests whenever necessary and enlarge them during each use. If the eyrie is situated on a tree, supporting tree branches may break because of the weight of the nest. Certain other animals – birds and mammals too small to be of interest to the huge raptor – often use the nest as shelter. Their predators are just the right size for Golden Eagle prey, and therefore avoid active eyries.
The female lays two black eggs between January and September (depending on the locality). They start incubation immediately after the first egg is laid, and after 45 days on average the young hatch. They are entirely white and are fed for fifty days before they are able to make their first flight attempts and eat on their own. In most cases only the older chick survives, while the younger one dies without leaving the eyrie. This is due to the older chick having a few days' advantage in growth and consequently winning most squabbles for food. This strategy is useful for the species because it makes the parents' workload manageable even when food is scarce, while providing a reserve chick in case the first-born dies soon after hatching. Golden Eagles invest much time and effort in bringing up their young; once able to hunt on their own, most Golden Eagles survive many years, but mortality even among first-born nestlings is much higher, in particular in the first weeks after hatching.